Let Me Light Retro-Reflective Backpack everyone is looking to pack their desired products, but no one enjoys a bulky backpack. With multiple pockets and wide space, Let Me Light will fit whatever you desire without it looking overwhelmingly bulky.
Normal at Day, Reflective at Night:
With its high presenting retro-reflective technology, our backpacks appear as regular backpacks during the day, but they transform and illuminate its magical reflection during night.

FULLY Reflective-Unlike many reflective backpacks that have a tape or film sewed on, the whole backpack is reflective--approximately 13 TIMES more reflective than regular reflective fabric.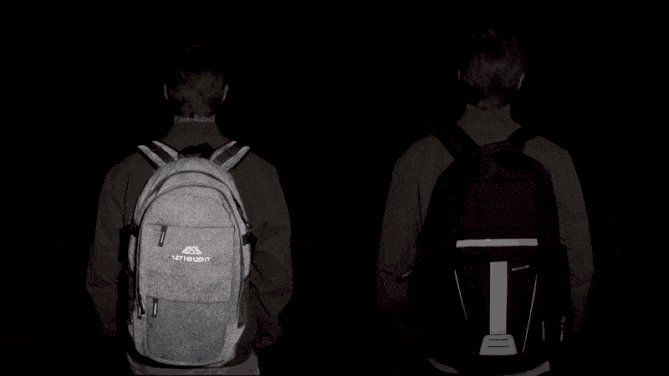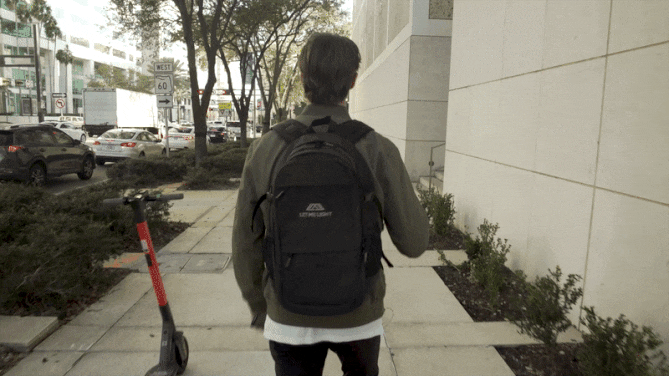 The 100% highly visible retro reflectivity ensures safety for riders, delivery drivers, and anyone who could be difficult to see in the dark.

Fusiontex is created with cordura fabric-- a fabric widely used by many other high end backpack manufacturers. We are also the only reflective backpack in the world created with cordura fabric.

All reflective backpacks only allow a silver or gray color line because they coat their reflectivity with aluminum coating. LetMeLight, however, collaborates with cordura fabric to produce retro-reflective fabric utilizing the patented coating technology. INNO10 can make backpacks of any color with this special technology.(This version will only include a black color; however, we plan on manufacturing different colors for future campaigns based on backers' feedback and comments.)
Experience breathability on a backpack like never before because the retro-reflective has premium air permeability--something that normal reflective tape does not have.

Easily Accessible:

With various pockets and multiple functions, you can easily access any of your items in LetMeLight while maintaining a simplistic and minimal design.

Easy Access Laptop & Tablet Pocket
You can fit up to a 13 inch laptop and seal it shut with the velcro seal to ensure maximum protection for your electronic goods.

LetMeLight has amazing organization options with plenty of extra pockets in each area of the backpack to ensure the most optimal space for our wearers. We experimented and tested the design for months to achieve the most ideal configuration that will get our users the most out of these pockets.

The usage of Nylon zippers makes the backpack stronger than ever--you don't have to worry about the zippers ever becoming a problem.

High Quality Water Bottle Pockets
Two mesh water bottle pockets have been added to carry around any water bottle or tumbler of your choice. You can even use it to carry around your umbrella.

Compression Strap OR Strap for Extra Gear--You Choose
Compression straps to help make your backpack less bulky and can also be used as an attachment to any bulky item you want to carry around.

Adjustable Sternum Chest Strap
No matter how big or small you are, the adjustable sternum strap makes it easy to maximize your comfort while wearing LetMeLight.

Ergonomically Designed Back & Shoulder Straps
The soft yet comfortable foam in the back keeps your back cool and dry while wearing LetMeLight at all times. The shoulder strap was also ergonomically designed to allow maximum comfort while wearing the backpack.

LetMeLight was designed for both genders, so anybody can rock LetMeLight--literally!